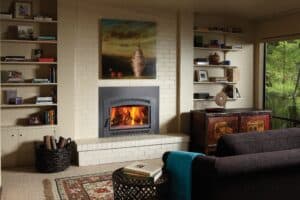 Fireplace Xtrordinair wood fireplace inserts are basically fireplaces in a metal box that fit into your existing masonry fireplace to transform it into an efficient source of heat. Traditional open fireplaces can have efficiency ratings as low as 15% and can actually draw the heat out of your home! Our wood burning inserts can achieve efficiency ratings as high as 71% and may be used as a primary heat source in a mid-sized home. And you won't lose the view with our huge, stay-clear glass doors.
To get started, determine your heating needs based on your climate and the size of the room you need to heat. The staff at Hibernation Stoves and Spas are always ready to answer your questions.
Please call 209-795-4339, stop into our Arnold showroom, or fill out an information request form and a Hibernation associate will contact you as soon as possible to discuss your needs.
---
Fireplace Xtrordinair Wood Fireplace Insert Showroom